October 2014 Newsletter
Version 5.1-1.08 released today
We have just approved and released our latest version of Mutiny. Here are some of the new features.
Search field on Icon, Grid and Table views as well as the Node Manager view.
Ability to choose between Icon and Grid views in the published views.
Breadcrumb in published views that shows the path to the view you have navigated to.
Integration of browser back/forward buttons in published views.
Improved support for iPads and Android tablets.
Added support for IE10/11 running on touch screens.
Changed node icons to open on a single click instead of a double click.
Opening panels is now consistent throughout the interface and it aligns touch screen and non-touch screen behaviour.
Right-click context menu for the node icon, grid and table views.
Improved time stability for installations running under HyperV.
Added support for larger disk volumes (> 2TB).
Fixed problems caused by some characters within interface descriptions.
Negative temperatures are now displayed properly.
Added support for new Windows-PowerShell Agents.
New Agent to summarize IP Services being monitored on a Node.
New Agent to Monitor VPN traffic on Cisco ASA Firewalls.
New Agent to monitor remote system-time drift.
Please visit the customer area to download.
Website Update and new Customer area
If you have been by the website recently you may have noticed we have given the site a refresh and added a new customer area. We have also integrated a new customer helpdesk and ticketing system to improve our already efficient customer service experience.
Customers can now see frequently answered questions and helpful pictograms as well as submit a support ticket from the new portal here.
New Appliances
We now have new hardware appliances based on a traditional 1U rack-mount chassis and the new Intel Next Unit of Computing, these are both Mutiny branded appliances. Customers can purchase these units and restore their current running configuration for a seamless upgrade. The new appliances can be purchased online with a purchase order.
Updated FAQs and Pictograms
In response to common questions asked, we have compiled some new support pages for the website outlining how to complete common procedures in Mutiny, they can be found here FAQs and Pictograms.
DHCP server monitoring remote agent
If you run a DHCP server in your organisation this handy remote agent can be added to your server providing the DHCP service and will simply monitor the remaining number of addresses in the scope and alert you when you're running out. Instructions here.
New Windows PowerShell scheduler
We are currently beta testing a new PowerShell scheduler that will significantly simplify the use of custom remote agents. Installed on a Windows server this will allow you to use very simple PowerShell scripts to obtain values from a Windows server and send result data and graphing data back to the Mutiny system to enhance the monitoring of Windows servers.
We are also testing a number of agents to run within this sceduler these include.
Exchange Queue monitor with graphing
Generic service "running" agent
Large drive/network drive monitor
The aim is to provide this as a free agent and provide validated scripts from a Mutiny "Script Store". If you would like to test these agents please look at the PowerShell page on the website.
Mutiny audit files
Quite a few customers don't realise that the Mutiny system collects interesting audit information and stores them in CSV files in the Mutiny share. There are two files produced daily. One contains the properties of the systems (e.g. installed memory, disk sizes serial no. etc.). The other contains all software installed on the system. With version 5.1-1.08 released today, these files are now linked through to the documents area.
View Mode Selector
Each view can be toggled between Icons, Grid, Table, Top Tens, Map and Wallboard.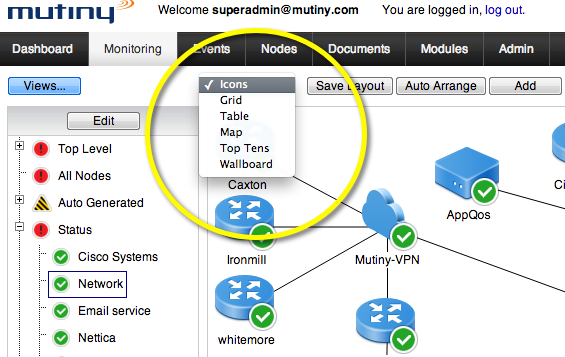 System health check
We are always happy to host a GoToMeeting and have a look at your system with you to assist with a problem, help you understand a particular procedure or simply cast our eye over your setup and answer questions. If you would like a health check simply email support@mutiny.com