Mutiny version 6.3 released
Hello everyone,
After a lot of development effort and testing we are proud to bring you Mutiny version 6.3, so thank you to our testers for their suggestions and help identifying the last remaining bugs.
Here is a summary of the new features in 6.3
Improved Event-Acknowledgment Methods
Currently, when a node is at a Warning or Critical Status, you can place the entire node into Acknowledgement which will then supress any further Alerts that might be sent from the open Events on the node. This also gives you the option to show, or not show, these open Events on the Wallboard. This is fine if the node has only a single open Event, but what if (say) Memory Usage and Disk Usage both go into Warning or Critical at the same time? The new method allows acknowledgment at the Event level so that each of the individual monitored properties can be separately acknowledged if required. For example, if on a node, disks "C:" and "D:" are both at Warning or Critical Status, then you could choose to acknowledge the Event from the D drive, but not from the C drive.
When you acknowledge an Event, you will be able to choose the length of time for which you want the acknowledgment to stand, from a drop-down menu of time options or simply set an end time. You will also be presented with a dialogue panel into which you can add a Comment, perhaps to record why the Event was acknowledged. This comment, along with the username that was used to log in and set the acknowledgement, will be displayed in a new "Acknowledgement History" table.
New Cards view layout option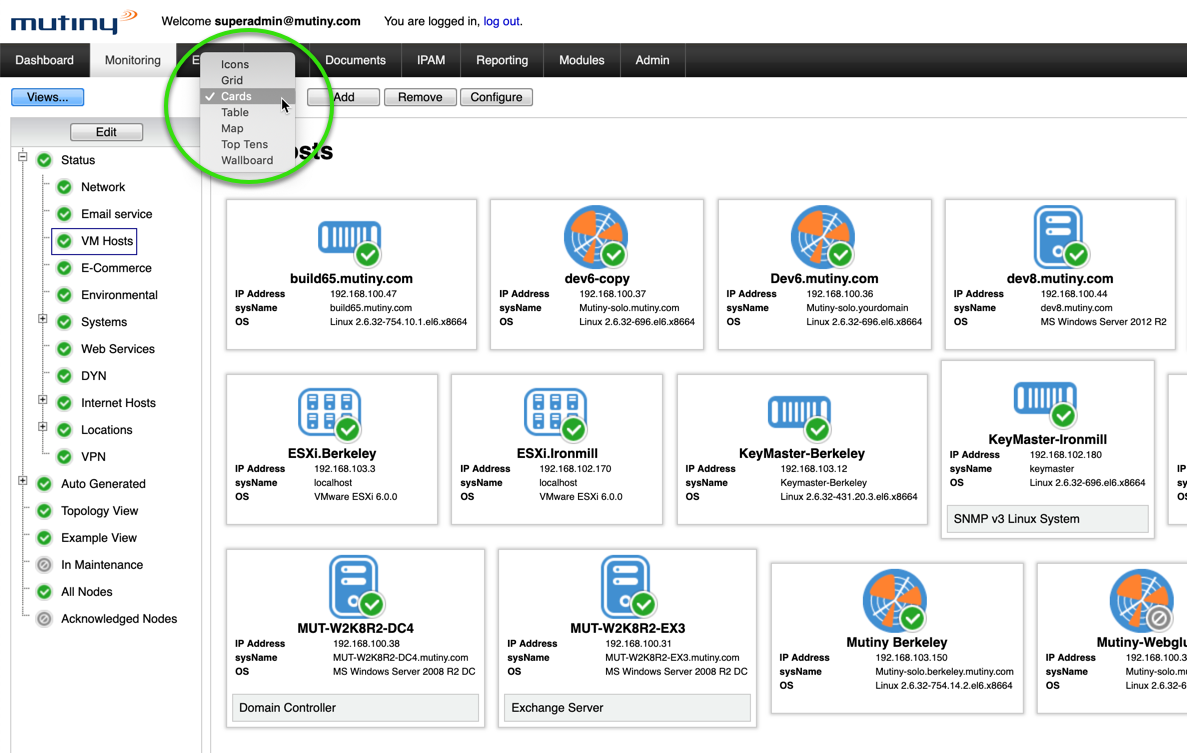 Tip! You can save a default layout on a per-view basis by selecting the [Configure] button at the top of the view
New maintenance interface
The maintenance interface has been updated and some properties that were in the Admin area have moved out to the maintenance area. The upgrade tab now has an Upload and Upgrade progress bar as well as a log output window to make it easier to troubleshoot any upgrade issues.
Updated Wallboard code
The wallboard will now refresh individule events as they appear in the event database instead of the one minute refersh of the whole table. You can also click on the node or property and open the node directly from the wallbaord.
New and updated agents and adaptors
Cisco Wireless-LAN Controllers
CPU usage, Memory Usage, PSU and Environmental data, WLAN Statistics.
Palo Alto
System data from the environmental monitor using the Palo Alto REST API (not SNMP). This includes PSU & Fan problems plus critical temperatures.
Cisco Nexus
System Environmental data from the in-built sensors.
Fortinet FortiGate Firewalls
CPU usage, Memory Usage, Disk Usage and environmental-monitor sensor data.
CheckPoint Firewalls
CPU usage, Memory Usage, Disk Usage, PSU data, plus changes to the way that the High-Availability Agents reports problems.
HP ProCurve Switches
CPU usage, Memory Usage and PSU data.
Network-Latency Agent
This Agent has been improved to monitor network latency form the Mutiny appliance to a remote device across a WAN or VPN. It measures packet loss, network latency (for large packets), network jitter and it also estimates ITU Mean Opinion Score (MOS) values for potential VoIP traffic.
Right-Click menu options
New right-click options are avalable for nodes in many areas. These include putting the node into maintenance and acknowledge events.
CentOs platform upgrades.
Although the Mutiny system is supplied as a closed appliance and as such has a very small attack surface area, we do occasionally bring all internal linux packages up-to-date to address any known issues.
The latest platform upgrade is now available on the downloads page along with the Mutiny upgrade bundle.
How do I upgrade my appliance
This new release will upgrade any mutiny version 6.1.0-5445 or higher.the bundle is on our downloads page at; https://www.mutiny.com/downloads/
See our help pages; https://mutiny.freshdesk.com/support/solutions/articles/5000003078-how-to-apply-an-upgrade
If you are a few versions behind, don't worry as you can follow the upgrade path on this page; www.mutiny.com/mutiny-support/update/
Recently released in V6.2.1.
ServiceNow connector.
With the ServiceNow connector, organizations can fully integrate their Mutiny monitoring capability into the Incident Management, Event Management and Configuration Management processes within their ServiceNow instance.
Installing the connector facilitates quicker and more effective troubleshooting by placing monitoring information at the finger tips of your ITSM resolver groups. Mutiny's ServiceNow connector allows for quick inspection of node details and monitoring history directly from the ServiceNow incident (or other task) record.
The ServiceNow connector provides a fast and glitch free solution to integrate your Mutiny monitoring system to your ServiceNow platform utilizing best practice integration techniques and implementation standards.
Features
Outbound connectivity from Mutiny to ServiceNow.
No MID server or inbound firewall changes required.
Convert Mutiny events and alerts into ServiceNow Events, Incidents or Notifications
Synchronize Mutiny nodes to the ServiceNow CMDB
Create actionable tasks from Events
Provides Mutiny node information from within ServiceNow UI
Mutiny REST API
The Mutiny REST API represents the various elements that a Mutiny system uses contained in a URL. This allows HTTP verbs to be used to operate on them.
Data is returned as either a JSON document or as a location header that should be used to retrieve another document.
Any user of the main mutiny interface can access the API with the same set of permissions as normal.
Documentation for the API can be downloaded from the website Mutiny_REST_API_Documentation.pdf
New SMS Gateways
After a long search we now have identified a SMS gateway that can be used to forward SMS Alerts from Mutiny without the need for a modem or analogue telephone line. The gateways are manufactured by MultiTech and are fitted with a Cat 5 Ethernet NIC, external power supply and a slot for a standard UK mobile SIM card.
Mutiny can supply these gateways as a complete packaged service at £500 per year (+VAT), including an unlimited* number of SMS messages (* subject to standard UK fair-usage rules).
Alternatively, you can purchase your own gateway from us, specially configured to work with Mutiny, at a one-off cost of £500 + VAT. You will then only need to provide your own SIM card, on a suitable package, from a UK mobile provider of your choice.
and finally...
As always, many thanks for your ongoing patronage and remember that we mainly develop features suggested by our users, so keep them coming.
If you like Mutiny, please tell others as we pay a "Bounty on the Mutiny" for referals.
Kind regards
The Mutiny Team